GERMAN ENGINEERING FACULTY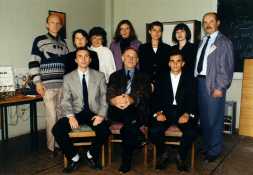 Faculty was created in 1992.
Its opening was based on long-standing experience of cooperation of DSTU with higher educational establishments of Germany, and also on the support of "Siemens"
Dean of the faculty - Victor Kalashnikov.
Teaching is done in speciality of "Electromechanic systems of automation and electric drive".
It is done mostly on German scientific and material base. Faculty also attracts professors from Magdebourg University.
Subjects providing general education are taught in mother tongue for all the Ukrainian students of this speciality. Contents of such courses are correlated with the German ones. Subjects of speciality are taught in German. This gives the ground for students` education in Magdebourg University in the seventh semester. The best student receive their diplomas in German Universities. For the graduants of the faculty there is a preparation for Master`s Degree in electromechanics.
Faculty also provides courses for raising skills of industrial engineers on application and operation of "Siemens" equipment in the sphere of programmed systems control and automatic electric drive.
Annual admission - 25 students.
Admission is done on the competition basis after successfull 1st year of studies on the basis of speciality "Electromechanic systems of automation and electric drive". The main criteria while making a group are good command of mathematics, physics and computer engineering. After the first year of studies during the educational practice the faculty organises intensive courses of German.
Telephone +38 (0622) 92-71-31
Fax: +38 (0622) 92-55-77
E-mail: VIK@dtf.dgtu.donetsk.ua